Adam Bloem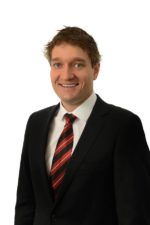 Real Estate Sales Consultant & Auctioneer
An experienced Sales Consultant and Auctioneer with a hard work ethic and an honest and approachable manner.
Adam grew up in East Gippsland where his family owned and operated Resthaven Caravan Park in Paynesville. After completing his schooling at (the old) Paynesville Primary School and Nagle College, Adam spent several years travelling before settling in Melbourne. Now with two young children, Adam and his wife Jane decided to return to East Gippsland which they see as a great place to bring up kids.
Adam returned to East Gippsland with 7 years experience in Real Estate sales experience in inner-city Melbourne where he was recognised as being a "Rising Star" and an "Emerging Leader" in Real Estate sales. Adam prides himself on delivering exceptional customer service and keeping his clients informed throughout the sale or purchase of their home or investment property. Adam works hard to achieve the best possible result and this is reflected in the countless client testimonials he has received throughout his real estate career.
Adam's experience and dedication combined with the support of Elders Real Estate's marketing tools, large buyer database and extensive knowledge of the East Gippsland property market are a winning combination for anyone looking to sell their home or investment property in East Gippsland.
If you are considering selling your property, please contact Adam to arrange a cost and obligation free property appraisal.
03 5153 2929
0400 803 653
After Hours: 03 5153 2929