Mark Norling
Rural Property Specialist
Fully Licensed Estate Agent & Licensed Valuer
(CEA - REIV Accredited)

Mark has more than 20 years experience within the Elders Corporation with most part being in the East Gippsland area. Mark and his family moved to Bairnsdale from South Gippsland to manage the Stock & Station business and is the former Principal of Elders Bairnsdale, handing over ownership in July 2017.  Mark has also furthered his education along the way and has successfully obtained a Bachelor of Business and also successfully become a qualified Property Valuer. In his time at Elders, Mark has had great success during this time taking out the Victorian Riverina Sales person of the Year award at State Level. On a National level, Mark was awarded the Top Principal in Regional Australia and was inducted into the Elite Status Sales Group for the number of properties sold.
Through his hard work and dedication that he shows to his work, his attention to detail and high standards of service has helped him build a reputation for excellence in real estate. Mark's hands-on management style ensures that every member of the team is effectively working towards the superior outcomes customers have come to expect from Elders Bairnsdale. Mark and his team are multiple award winners in Victoria & Australia in the real estate industry and have a proven track record of excellent results.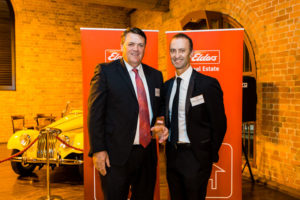 AWARDS 
2015
Salesperson Elite Award for Sales Excellence

Number 2 Principal - Gross Commission Vic 
2014
No. 4 Principal Settled Sales - Vic/Tas

No.5 Principal Gross Commision - Vic/Tas
2013
No. 1 Rural Salesman -  Vic/Tas

No.4 Principal Gross Commission - Vic/Tas 

for the half year ending June

No.4 Principal Total Settled Sales - Vic/Tas 

for the half year ending June
2012
No.5 Principal Settled Sales - Vic/Tas

No.1 Principal Total Settled Sales - Vic/Tas 

for the half year ending June

No.1 Principal Gross Commission - Vic/Tas 

for the half year ending June



2011
No.2 Principal Gross Commission - Vic/Tas 

for the half year ending December

No.3 Principal Total Settled Sales - Vic/Tas 

for the half year ending December
2009
Victoria/Riverina Salesperson of the Year

No.1 Salesperson Vic/Riverina

for the month ending March

No. 3 Salesperson Vic/Riverina 

for the month ending June

No. 2 Salesperson Vic/Riverina 

for the month ending September
2008
No.1 Regional Settled Sales 08/09

No.2 Salesperson Vic/Riverina 

for the month ending December
03 5153 2929
(03) 5153 2932
0427 324 639